How else can you best commence an action series than starting it off with a kickass pilot installment?
Sandstorm is everything I wished for in an action-adventure story! Great characters, full-on action, fast-paced storytelling, and awesome settings! Nothing surprising really, considering my first experience with Deep Fathom. But I should say that Sandstorm brought the whole science-religion-mystique game to a new level.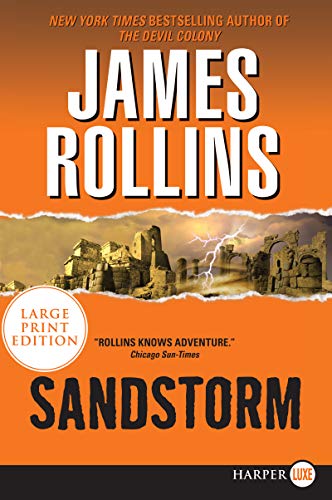 Quick peek: 
A strange and deadly explosion at the British Museum that piqued the attention of Lady Kara Kensington, Safia Al-Maaz and SIGMA force. Questions eventually lead to a trip to the Arabian Peninsula in search of answers – of a lost city and a lost race birthed from an ancient queen of the Bible. 
!!!SPOILER ALERT!!!
Points of interest:
The myth of Thenisnasesare – otherwise known in the story as the 'Boogeyman of the Dessert.' It is said to bring sure death to trespassers of the area they guard – the same place incidentally (or intentionally) threaded by Kara's father during their hunting trip on her 16th birthday. The same day when he vanished – a precursor to Kara's untiring search for the real cause of her father's demise.
Cassandra Sanchez–  Who proved to be a formidable foe among all others. She started as Painter Crowe's partner. Skilled in combat, smart, deceptive and a total femme fatale in action.
She marked the first significant act of betrayal in SIGMA, much to Painter's dismay both professionally and personally as it was hinted that their relationship could've lead to romance.
She foreshadowed the existence of a secret terrorist organization with global influence – the very same people she serves. 
Too bad. I actually thought they'd make a power couple. And I hoped for a change of heart in the end. But well…
Dr. Safia Al-Maaz's ancestry – Born from a mother who turned out to be a descendant of the ancient Ubar Queen (a.k.a Queen Sheba of the Bible) – sharing the same genetic material and bearing a close resemblance to the women of their blood.
Interestingly, these women can conceive at will – a process scientifically termed as parthenogenesis – making it possible to preserve their clean and pure bloodline.
Those who have the blessing of Ubar have the ability to project their will upon their minds.
Such as….vanishing at will. A real perk, don't you think?
Side characters worth mentioning…
Omaha Dunn – a skilled archaeologist who is also Safia's ex-boyfriend. An adventure-seeking man who's spent most years of his life on the field than being grounded home. 
Coral Novak – Painter's new partner who replaced Cassandra after the upfront betrayal. She's an ex-military who also holds a doctorate degree in Physics. She's sharp, skilled in combat and knows enough of science to figure out some of the mysteries surrounding Ubar. 
Kara Kensington – Safia's best friend who is also a multi-billion dollar business tycoon. She's a major sponsor to the British Museum and collects special artifacts uncovered from the Arabian Peninsula. 
---
This is an action-packed story and a page-turner that keeps you glued on your seat from start to finish. Difficult to put down once you've started. And Painter Crowe……I'm an instant fan.